Make: Philco
Model: 19
Year: 1933
Bands: BC/Police

Schematic (192K)
Voltage Data (221K)
Alignment Data (54K)

Tubes:
80
2-39/44
75
36
42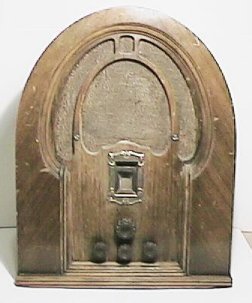 As found June 2000 awaiting it's turn on the bench
*UPDATE*
This radio is finished and awaiting me to take new pictures. The electronics required little work, capacitors all around, 2 39/44s and a 36 to replace 24As that someone had attempted to use.
The missing shadow meter posed the biggest challenge.
Found a used unit but no lens, wired it back into the circuit
and nothing, after a day or two poking around I
discovered someone had directly wired the AVC bus to
ground! Not good especially if you want a shadow meter
to work properly. The lens was replaced with a small
piece of dial material donated by a fellow collector.
The material is available from AES.
Shadow Meter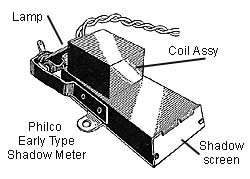 Shadow meter works much like a tuning eye tube.
A iron vain inside the meter assembly rotates
with signal strength and changes the light cast
upon the shadow screen. A strong signal is
viewed as a thin dark line in the middle of the
lit screen, weak signal is a wider line creating a
open and closed effect like it's tube cousin.