Make: Philco
Model: 46-350
Year: 1946
Bands: BC
Schematic (91k)
Alignment Data (135k)
Tubes:
1T7Z3
2-1T4
1A6
1U5
3Q5GT


Chris' Old Radios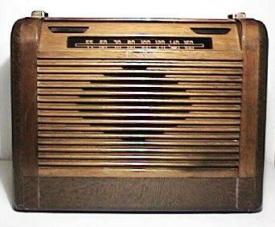 Amazing how heavy a portable was in 1946. But again it's
much lighter than the portables of the 1920s! Show me
a collector that doesn't have or had one of these, must
of been a popular set, find them everywhere!
Works great after replacing the output transformer and
a total recap, just need a handle.